The Electricity Supply Corporation of Malawi also said it expects the process of interrupting supply to parts of the electrical grid to worsen in the next four to five months.
At least five hours of power interruptions are expected daily in some areas across Malawi.
A press statement issued by the company indicates the "massive" power interruptions have been necessitated by "reduced water levels in Lake Malawi and the Shire River, which are the major sources of water for hydropower electricity generation" in country.
Though the announcement was recent, the country appears to have been experiencing a shortage in supply for years as there has long been reports of ESCOM failing to meet nationwide electricity demands.
Businesses owners say the interruptions will pose serious implications for them, increasing uncertainty in Malawi's already crumbling economy.
The Malawi Confederation of Chambers of Commerce and Industry complained ESCOM should have briefed the business community about its plan before implementing the load shedding. Noting that "an effective and reliable power supply is a major ingredient to successful and competitive business environment."
"I can't run my business effectively with these power outages. The smooth running of my business depends entirely on reliable and sufficient electrical power, and this means I will be making more losses every day we experience a prolonged load shedding. This is bad news to business people," said an owner of a maize mill in the capital city, Lilongwe who opted for anonymity.
Another business owner who also requested anonymity and owns two maize mills bemoaned that they had already experienced financial losses with the "intermittent power supply" and the new interruptions would greatly affect business. "When we have power all day we make between 150 to 180 thousand kwacha from the two maize mills and power outage for half a day means minus half that amount or more," he said.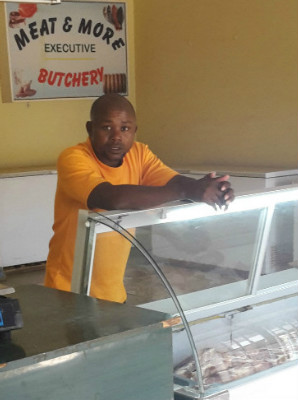 Bornface C. Mwale/Photo by Ali Kalichero 
Bornface C. Mwale, a manager at a famous meat butchery in Area 15, Lilongwe, said the only other option they have is to "search for other business opportunities that would run without being dependent on electricity power." When asked about other business opportunities of similar profitability he would consider venturing into, he gazed up and said "I don't even know how to run any other business apart from the butchery. Perhaps you can assist me to identify another business that does not use electrical power.".
As a measure to ease the burden of the power interruptions, ESCOM urged everyone to conserve energy usage, among other measures switching off geysers, electric heaters, and pool pumps from 05:00 to 21:00 hours daily.  
-//-
The cover photo, by Flickr user Skip Russell, can be found here.
BLOG COMMENTS POWERED BY DISQUS