At the 2015 Great Lakes of the World conference, an annual forum that draws together representatives of countries with major lakes to discuss and showcase their experiences and challenges, program manager of World Fish, Dr. Sloans Chimatiro, said if Malawi were to increase fish production it would likely increase the level of biodiversity. Moreover, efforts are being made by some farmers and fishermen to boost fish production, conserve fish species, and counter diminishing fish stocks.
Pierson James, a fishermen at Liwonde in Machinga district, told HARAMBEE TODAY, "I have been fishing in the Shire River my whole life; now I am 37 years old with really not enough things to show for my labor."
James said he wants to see more investment in fish production from the government and other stakeholders, so that he and other fishermen could improve their livelihood and contribute to the country.
"We depend on the river (Shire) for fishing, and as you can see, the fish in our lake and rivers are decreasing due to overfishing. If I had enough funds, I would venture into constricting my own fish ponds, which I would manage and make more money," James said.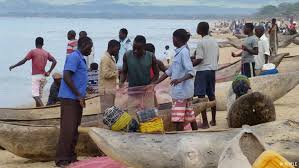 In the lower Shire district of Nsanje, farmers are committing to fish farming under Ecosystem Based Adaptation on Food Security (EBAFOS) program, to address reduced availability of fish on the market.
Under the program, farmers establish their own fish ponds to improve the availability of fish and make money for their livelihood. One of the farmers who owns three fish ponds at Group Village Head Masimo said, as the fish in the country's lakes and rivers are declining due to overfishing, it is imperative that government and other stakeholders devise measures of promoting fish farming in the country.
He said fishermen should also start fish farming to protect the remaining fish in the country's lakes and rivers.
According to the Ministry of Agriculture, "fish is a vital source of animal protein in Malawi, contributing to 60-70 percent of the nation's protein supply. In addition, government figures indicate that the fisheries sector employs over 60,000 full-time artisanal fishers and about 2,000 commercial fishers." Indirectly, it offers employment to more than 250,000 individuals working in fisheries related activities such as processing, marketing, and boat building.
BLOG COMMENTS POWERED BY DISQUS