Contributions from donors which included the European Union, World Bank, Britain, and Norway accounted for 40 percent of the national budget.  The donors withdrew financing the country mid last year after being frustrated by massive misappropriation of public funds by government officials, dubbed the "cash gate" scandal, which occurred during the administration of the late Bingu Wa Mutharika's Democratic Progressive Party and continued under former president Joyce Banda, who represented the People's Party.
According to a forensic audit report by the British Company Balker Tilly, about MWK 92 billion, or $206 million, was brown off from the public coffers during Mutharika's rule between 2009 and 2012, while MWK 20 Billion was looted during Banda's term.
The donors have since challenged to resume aid to Malawi only if government improves security on public resources and ensures that all those involved in cash gate are prosecuted and face justice.
"We can't continue funding a system we don't trust," the Norwegian ambassador to Malawi, Kikkan Haugen, told a local Malawian newspaper last month.
The situation has forced the government to implement a zero deficit budget despite it proving disastrous between 2011 and 2012 when conventional donors closed their aid taps to Malawi, citing poor governance by the DPP. The zero deficit budget means the government will finance all expenditures using its own domestic resources.
Meanwhile, the conditions are taking a toll on Malawians. Currently, most Malawians are complaining about the high cost of living due to the economic crisis as government imposes high sales tax on goods and services to compensate for the 40 percent shortage in donor funding. Around the city, there were queues of people lined at gas stations to shops, scrambling for sugar, cooking oil, and other essential commodities. There has been reports of critical drug shortages in hospitals, while some multinational investors such as Unilever halted production for a period due to the poor business environment, as the government borrowed money from commercial banks to bluff critics who argued the zero deficit budget is not working. Public health facilities are also reportedly facing acute drug shortage and patients are being forced to buy some of the essential drugs in private clinics or pharmacies.
Many Malawians feel the government is less concerned about economic conditions and have fears that the country may return to the 2011 and 2012 crisis levels. "We can't buy goods such as soap, salt or sugar because they are too much expensive. We are in (the) toughest economic times and we wonder (why) that government seems not to be concerned with this situation," said Ana Nyaphiri,  a 64-year-old women from the northern city of Mzuzu, during the protest last month.  "We call on President Peter Mutharika to come out of hiding and provide sound leadership and facilitate genuine dialogue on the current national crisis," she said.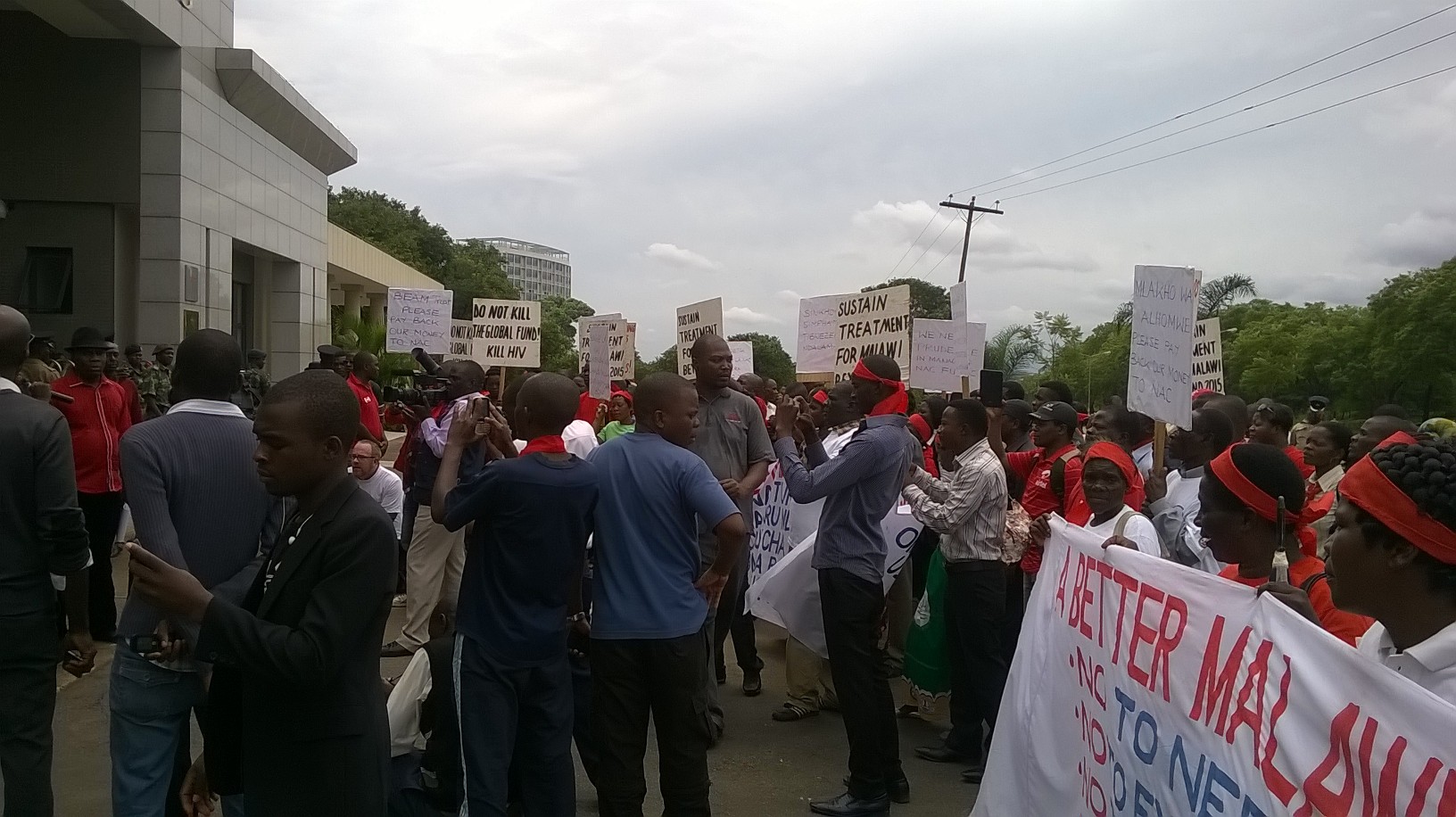 Protesters gather in Malawi's capital Lilongwe in response to widespread economic hardship around the country. Photo by Henry Kijimwana Mhango/HARAMBEE TODAY
During last month's protest, participants ranged from children to the elderly who faulted the president for the persisting fiscal indiscipline and demanded he fully deal with those involved. They cited recent allegations against the president's ethnic clan, the Mulhakho wa Alhomwe, and his wife, Getrude Mutharika, Beautify Malawi Trust, also known as Beam, for accepting an estimated $30,000 from the National Aids Commission to fund their activities that had nothing to do with the fight against the HIV and Aids pandemic.
Executive director of one of the country's leading human rights organization, Timothy Mtambo, said during the protests in the Capital Lilongwe as he was presenting the petition to the Statehouse, "Malawians are concerned that whilst the country is still facing shortages of antiretroviral. It is surprising to note that resources for such a purpose have been misdirected to entities that do not directly deal with HIV/ AIDS interventions such as BEAM Trust and Mulhakho Wa Alhomwe which is tantamount to abuse of resources."
The scandal is alleged to have forced the Global Fund to suspend its funding for HIV activities to Malawi which included MWK 13 million or $30,000, but the president's Chief Economic Adviser Collins Magalasi says the government has spoken to the Global Fund and obtained an assurance that its relationship with Malawi remains warm despite the NAC controversy.
"You must appreciate that the Global Fund support to Malawi is an enormous contribution to the economy and government had to quickly move in to make sure that its larger strategic and economic interests are safeguarded," Magalasi said in an interview with HARAMBEE TODAY.
Mtambo said "Malawians are concerned with the dwindling state of governance as evidenced by lack of separation of powers, abuse and manipulation of public resources which are meant to serve the interest of Malawian people, high cost of living, nepotism, absence of decisive leadership among other things and asked the president to immediately provide tangible answers to the people's sufferings before the masses. The untold story about scarcity of essential drugs and demotivated work staff in the public health sector."
As part of their demands, the protesters said the president should immediately provide executive leadership by delivering monthly public addresses on the steps being taken to fix the prevailing conditions and suffering of Malawians until the economy stabilizes. "Failure to comply with this demand, we will regroup and decide the next course of action in order to ensure that justice and sanity prevails on the matter," the protesters proclaimed.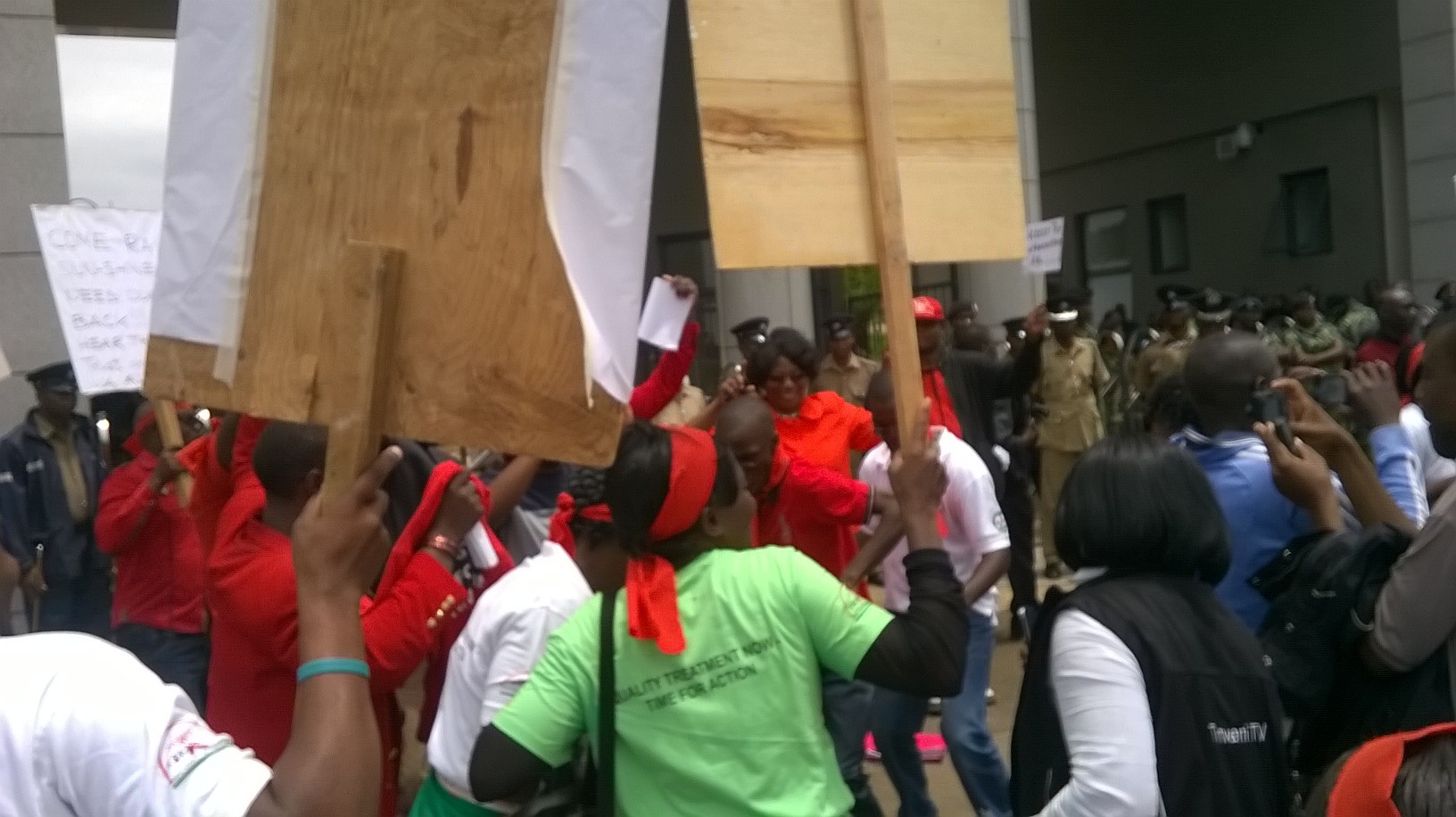 Photo by Henry Kijimwana Mhango/HARAMBEE TODAY
Though some quarters feel it is hard for government to address the economic and social concerns within the three months period, Aston Cheyo Nyondo, a local economic commentator and politician believes it's easy for the Mutharika's administration to improve the country's economic situation as long as he puts partisan politics aside and concentrates on bringing fiscal discipline in governance and management of public resources.
"If I was the country's president, I would have facilitated the institution of a dialogue platform with civil society organisations, political parties and seek for their input on the current and future status of the economy" he said. Adding "I would have buried the partisan politics arrogance spirit which are contributing to these problems as well and come up with a government of national unity to bring confidence to donors and Malawians," he said in an interview with HARAMBEE TODAY
Nyondo thinks this would inspire donors to resume aid to Malawi and attract investor to invest in the country.
Many people, however, including rural subsistence farmer Bruce Ngamanya from Maxwell Village on the border District of Karonga, feel the DPP led government will not implement Nyondo's ideas, especially forming a government of national unity, due to arrogance and fears that the party would lose support which would eventually weaken their chances of winning the election in 2019.
BLOG COMMENTS POWERED BY DISQUS