1.  U.N. Increased Business with Aviation Firm Involved in Rape of Minor 
Leaked documents reveal that the UN expanded business with Russian aviation firm Utair after investigations confirmed two of its employees drugged and raped a minor in the Democratic Republic of the Congo in 2010, before assaulting her with lit cigarettes and photographing her lying naked on the ground. The documents also cited there was evidence of a 'culture of sexual exploitation and abuse' in the company. The UN acknowledged it considered ceasing business with the firm but deemed Utair's  services too critical to its mission in the DRC. The firm dismissed both employees in light of the allegations while the U.N. has blacklisted them from future work. (Source: The Guardian)
2. Private School Takeover Bid Ends in the Wake of Segregation Scandal  
South Africa's private school provider Curro Holdings withdrew its bid to takeover rival Advtech amid allegations of racism at one of their schools. The company fired the principal and the government threatened to revoke their license after a video emerged that appeared to have pupils segregated in a school near Pretoria. Curro, which operates 40 schools in the country and plans to expand across the African continent,  denied the allegations saying students were grouped by language rather than race. (Source: Reuters) 
3. European Regulators Approve Malaria Vaccine
The world's first Malaria vaccine, Mosquirix,  received a green light from the EU Human Medicine Regulatory Agency. Developed by British pharmaceutical company Glaxosmithkline and funded by both public and private sponsors, the vaccine is approved for infants between six weeks and 17 months who live in at-risk regions. The World Health Organisation is expected to meet and determine whether to make a recommendation in coming months before the vaccine is made available. "Malaria is one of the biggest killers of children in the world, claiming the life of one child every minute. It infects around 200 million people a year and killed an estimated 584,000 people in 2013, the vast majority of them babies in sub-Saharan Africa," according to Reuters.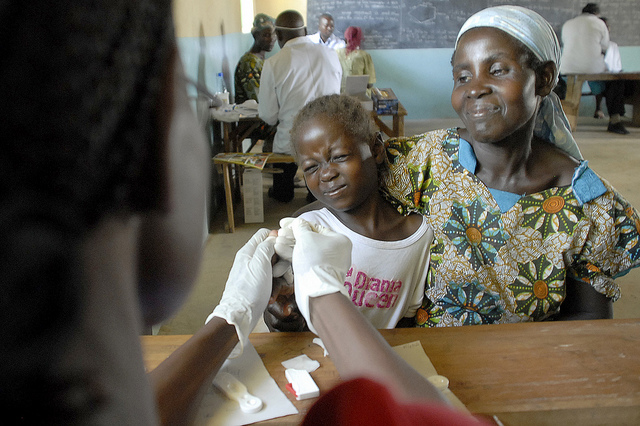 U.S. Army conducts clinical trial of a malaria vaccine in Kisumu, Kenya in 2010./Flickr

4. Saif al-Islam Gaddafi Sentence to Death
A Libyan court sentence Saif al-Islam Gaddafi, along with eight other members of the former government, to death by firing squad for war crimes and quelling protest in 2011. Saif al-Islam has reportedly been held by opposition group  Zintanis since his capture and his last appearance during the trial was made via video in May of last year. International human rights groups have expressed doubts about the fairness of the trial as the country continues to be  lawless in many places as civil war continues. (Source: BBC)
5. Africans Respond to Obama's Speech on Human Rights Issues in Kenya and Ethiopia
Kenyans and Ethiopians overwhelming welcomed President Obama during his visits to the the countries in what was the first from a sitting American president. During his speech, Obama challenged both countries to improve human rights conditions which struck a nerve with some Africans as they called on the U.S. president  to clean his 'own house first,' citing the unrest over racial tensions between black communities and police in the U.S. Meanwhile, publisher  Andrew Mwenda argues that Obama's "ill-informed and stereotypical admonitions" of African leaders was well received because African elites have internalised Western ideology that Africans are "inferior, inadequate, and incapable of self-government." (Sources: BBC, AlJazeera)
Meanwhile, the media paid little attention to the Global Entrepreneurship Summit, the reason for Obama's visit to Kenya. The GSE was launched in 2009 by Obama as part of the U.S. initiative to include entrepreneurship and innovation in its international engagement efforts.  The summit brings together entrepreneurs and investors "from across the world annually to showcase innovative projects, exchange new ideas, and help spur economic opportunity," according to the GSE website.
6. Third Term for Burundi President Cast Shadow on Upcoming Elections in Africa
Burundi President Pierre Nkurunziza was re-elected for a third term despite constitutional term limits. His win comes after months of violence and protest in response to his decision to seek another term. With 35 presidential and legislative elections scheduled from 2015 through 2016 in sub-Saharan Africa, his win could undermine democratic processes in upcoming elections. (Source: HARAMBEE TODAY)
7. "Our clothes are being made in ways that advocacy campaigns can't affect and in places they can't reach"   
Boycotting corporations as means of ending the exploitation of workers in developing economies may have lost its impact, according to human rights consultant Michael Hobbes. The apparel industry is dominated by megasuppliers who have multiple contractors they move through depending on markets needs. Thus, Western companies often don't have a clue where or who is producing their goods which effectively makes it hard to determine who isn't adhering to ethical standards. Some manufactures also aren't able to recognize the brands they produce due to the set up. The lack of regulatory protection is also a contributor as many of these countries lack the manpower needed to enforce labor and environmental laws.  Instead of solely depending on boycotts, urging policy changes in trade agreement that make trade conditional on opening the doors to international inspections is the real leverage, Hobbes argues. (Sources: The Huffington Post)
8. $16 Billion Missing from Kenya's State Budget
Kenya's auditor general reported a quarter of the country's $16 billion budget unaccounted for. The findings were announced days after U.S. President Obama urged Kenyans to do more to curb corruption. (Source: CNBC Africa)
9. Women Target World Bank for Not Monitoring Investments In Lonmin
Three years after miners on strike were massacred in the Marikana area of South Africa at the hands of government security forces, a group of women are drawing attention to living conditions in the area that reportedly has "no water, electricity or toilets."  The women are challenging the World Bank's private sector arm, the International Finance Corporation, for investing $50 million in 2007 in the British company that owns the mine, Lonmin, without auditing the implementation of social projects the funds were intended for. Lawyers for the women called the living conditions "dire."  (Source: Al Jazeera)
10. Somaliland: "The Newest Tourist Destination in Africa"
CNN did a profile story about Somaliland and its capital city, Hargeisa, positioning itself as a new tourist destination. Despite the country claiming independence from Somalia in 1991, it has not received international recognition as a sovereign state. Yet, the country is "remarkably safe" and welcoming writes James Jeffrey. (Source: CNN)

Somaliland/Flickr
BLOG COMMENTS POWERED BY DISQUS